I was watching TV the other night and came across a channel where a preacher was teaching something I found rather strange. He said that Christ is not man and tried to prove this by using I Kings 8:46 and Ecclesiastes 7:20. He said that these verses say that there is no man who has not sinned, and since Christ did not sin, he concluded that Christ is not a man. He had similar arguments along this line. Is he correct in saying that Christ is not a man?
Editor's reply: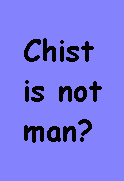 The Bible is full of proofs that Christ is a man. To say that He is not a man would present numerous contradictions in the Bible. Christ Himself taught His state of being. In John 8:40, this is His testimony:
"But now you seek to kill Me, a Man who has told you the truth which I heard from God. Abraham did not do this." (New King James Version)
Apostle Paul also proves that Christ is truly a man or truly human. He says: "There is only one God, and Christ Jesus is the only one who can bring us to God. Jesus was truly human, and he gave himself to rescue all of us." (I Tim. 2:5, Contemporary English Version)
Even in the prophetic era, Prophet Isaiah spoke of Jesus' state of being. He said:
"He is despised and rejected by men, a Man of sorrows and acquinted with grief. And we hid, as it were, our faces from Him; He was despised, and we did not esteem Him." (Is. 53:3, NKJV)
And now that Christ is in heaven, He remains to be man in nature. The Bible clearly states:
"Let Your hand be upon the man of Your right hand, upon the son of man, whom You made strong for Yourself." (Ps. 80:17, Ibid.)
"If then you were raised with Christ, seek those things which are above, where Christ is, sitting at the right hand of God." (Col. 3:1, Ibid.)
The preacher that you watched on TV is wrong in claiming that Christ is not a man. His line of argument shows his lack of knowledge and understanding concerning biblical truths. We should bear in mind that Christ was without sin not because He is not man, nor is it because He is God, but because the true God, the Father in Heaven, sanctified Christ to be without sin:
"Do you say of Him whom the Father sanctified and sent into the world, 'You are blaspheming', because I said, 'I am the Son of God'?" (Jn. 10:36, Ibid.)
We should not listen to preachers who teach the kind of Jesus that's different from the Jesus taught by the messengers of God. Instead we should believe the teachings of Christ Himself that He is a man sent by God to tell us the truth (Jn. 8:40).