We arrived 10am of May 4, 2002 at Honkong International Airport. The airport is spacious and offers excellent facilities. It provides enough information to travellers in handbooks and pamphletes, with maps and ways around. You could find them just before the immigration and all through the arrival hall.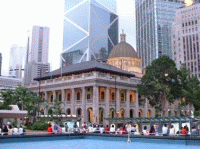 After we claimed our bags, we changed some Peso inside. I suggest that you have your HKD on hand upon arrival or have your money changed downtown or else you'll fall short about HKD80 for every USD100 with their exchange rate. We bought Octupus Card for each of us and took bus E21 to Central at HKD35 each. An adult may take one child free of charge. Octupus card is a fare collection card which is accepted by Citybus, Star Ferry, MTR and KCR and even convenience stores. Travel time from airport to Central is about 50 minutes however, if you would consider speed, you take the Airport Express.
We disembarked infront of the Jardin House and walked towards the Queens Road to pick-up our tickets from China Travel. From there, we went towards Des Voeux Road and stopped by McDonalds to take some snacks; then we proceeded to Des Voeux Road West to meet Sis Rose who had arranged a room for us in Causeway Bay.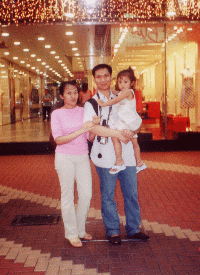 At 5pm, we arrived at the boarding house and checked what Causeway Bay had for us. We walked through the vicinity dropping by some of the shops. The Victoria Park is just a few blocks away and is a nice place to unwind. We went towards the direction of Wan Chai and back to Times Square. The shops offer a wide variety of items, from clothes to cosmetics to food, you name it. Some were offering great deals and discounts. Finally, we got home at 10pm.
May 5. We took MTR from Causeway Bay to Central at HKD5.60 each. We followed signs to World Wide House at Exit B. From there we turned left. Up the escalator, turn around and you'll find a money changer at the corner with good exchange rates. The Central Bus Terminus is just a corner away from that building, next to the Jardin House. At the corner is a small yellow booth that sells Citybus tickets to Ocean Park at HKD12 each. We travelled 25 minutes to Ocean Park.
We took the cable car from the Lowland Gardens to the Marine Land crossing a mountain. Grace was very nervous although we had the same cable ride in Singapore.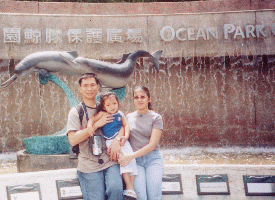 It was different though because that time we were crossing a ragged mountain. The ride was exhalerating; you would see mountain rocks down under, the entrance and parts of Aberdeen. We thought the ride would end at the tip of the mountain but see, it was even more exciting. I can't recall if it was a 20-minute ride but I must tell you, it's wild!
We catched the seal and dolphin show at Ocean Theater and savoured a sumptous lunch after. A ride at the Ocean Park Tower would let you see the park in its entirety. The ride smoothly glides up and down while the cabin is revolving 360 degrees.Going further, we moved to Headland Rides where you would find the ferris wheel, roller coaster, abyss turbo drop, flying swing and a lot of shops and game stations. I tried the crazy dragon ride; an 842-meter roller coaster that runs the entire loop within 2.5minutes. I also tried the turbo drop which was a very different experience. The ride would take you up at 185 feet and drop you straightdown at free fall.
Nearby, we explored the Atoll Reef that showcases a collection of marine life. From there we walked down towards the Adventure Land. We rode the Mine Train and the cool and crazy Raging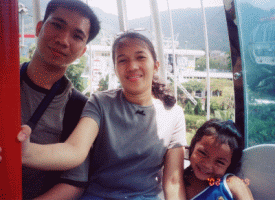 River. Down the Ocean Park Escalator is the Bird Paradise and the Tai Shue Wan Entrance. We rode a bus back to the main entrance and spend an hour at the Kids' World with my daughter who was amazed by most of the rides.
We left for Shenzhen on May 6 until Tuesday afternoon. Late that afternoon, we boarded the historic Star Ferry from Central to Kowloon. We spent half an hour gazing at the awesome Hongkong skyline. From the harbor, we walked and shopped along Nathan Road, the famous commercial street in Kowloon. You would find there practically all things that you need. We returned to Quarry Bay when we reached Mongkok MTR station.
The following day, May 8, we traveled to Macau and came back at 1pm next day. From the terminal, we went to Des Voeux Road West to attend our congregation at the Locale of Hongkong West. Afterwards, we went back to Kowloon, this time we started from Prince Edward moving to the direction of the Lady's Market. We took a bus to the Ferry terminal and boarded the Star Ferry to Wan Chai. From Wan Chai, we rode the old and lazy tram to Quarry Bay.
We returned to Manila on May 10.