An Hour in Johur Bahru

From the hotel, we walked a few blocks to the Singapore-Johur Bahru Express (SJB) terminal. There was a booth that sells tickets at SGD2.40 for an air-conditioned coach. The rain just started to pour when the bus left which took Bukit Timah Road. There is no interesting things to note along the way except the Singapore's greenery. The rain made our journey cool and comfortable.

Before approaching the border, the bus stopped by a building which is the border control security of Singapore. Everybody went off and made their way up to the building. There was a long escalator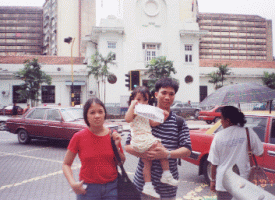 and signs would lead you to the counters. After clearing immigration, we went down while the bus was waiting at a corner. Donít worry, you can take the next SJB bus free just in case you were left behind, so there's no need for you to hurry up.
The bus stopped again after a few meters; this time it was the Malaysia border control. After filling up the forms, we appoached the counters. I cannot forget that day when the immigration officer was holding on to my friend because she was holding an open ticket. When I noticed there was something wrong, I approached the counter and checked what was happening. He said, he would not allow my friend to enter Malaysia because she did not have a confirmed outbound ticket. After a few minutes of dialogue, he asked my friend "Do you love Malaysia?" and of course she answered "Yes." Finally, we get through. Outside the immigration, there are a number of taxi drivers waiting.
We just walked through the streets; that time the rain stopped. It was like our Baclaran where bargains are all around town. The prices are the same as compared here in Manila. We drop by a department store and checked on something that we could buy. After an hour, we decided to go back; we are scheduled to go to Batam, Indonesia. We walked back to the border and looked for the bus station. There was a woman who advised us to exchange some of our SGD coins to Malaysian Rupees (MYR) because the bus does not accept SGD. Ironical, isnít it? She accompanied us to the money exchange booth and up to the bus station. We waited for a few minutes before we were able to take a bus.
Again, the bus stopped by the immigration for Malaysia departure formalities and again at the Singapore border. We stopped infront of the Little India in Rochor Road and walked back to our hotel to retrieve our bags.