Bright Macau

We woke up six in the morning of May 8 for a trip to Macau. From Quarry Bay, we took the MTR. The Hongkong Macau Ferry Terminal, which is part of the Shun Tak Centre, is located at Exit D from the Sheung Wan MTR station; the last station west of the Island Line. To get into the terminal, just follow exactly the directions from the MTR flatform and up to the building. It was about 6:35am when we reach the departure hall. Nothing was open except for the ticket booths.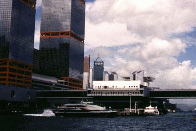 Prior to our depature in Manila, we had arranged for a Macau package over the internet with China Travel. Regular round trip fare on Turbojet would cost HKD261 each (HKD231 child) including taxes however, we got the package at HKD279 only including hotel accomodation, transfer and a promo price for the Macau Tower at HKD55. A great deal, isn't it?
Just in case you don't have prior arrangement, there are travel agencies all over the place offering same kind of package however, don't get into the terminal very early because they are still close.
We proceeded to immigration; obviously it was clear because there were only few passengers leaving early that morning. There was even no store or shop open so we went to the gate directly. We were very early for our scheduled depature at 8am. Fortunately, the vessel that was leaving 7am at the other gate accomodated us.
The vessel is generally clean with an interior built similar to that of an airplane. There are two cabin sections, the economy and first class which is in the upper deck. From inside, you can view the Hongkong harbor, ships and vessels and the outlying islands. Travel time is only an hour. As you approach the Macau peninsula, you would see the Macau-Taipa bridge, the Macau skyline and the magnificent Macau Tower.
The immigration counters are just a few steps from the pier. Visa is required for all visitors except India, Indonesia, Israel, Japan, Lebanon, South Korea, Malaysia, Philippines, Singapore, Thailand, Egypt, Seychelles, South Africa, Tanzania, Brazil, Canada, Mexico, USA, Uruguay, Austria, Belgium, Czech Republic, Denmark, Estonia, Finland, France, Germany, Greece, Hungary, Iceland, Italy, Ireland, Liechtenstein, Lithuania, Luxembourg, Monaco, Netherlands, Norway, Poland, Portugal, Romania, Slovenia, Spain, Sweden, Switzerland, Turkey, United Kingdom,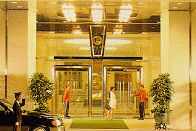 Australia, Kiribati, New Zealand and Samoa for a maximum stay of 14 days and holders of documents issued by the People's Republic of China. Hongkong residents with SAR identity card can stay for one year.
Arrival visa is available at MOP100 for an individual traveller for a single stay of up to 30 days in Macao and MOP50 for children under 12 years of age; MOP200 for couples, husband travelling with wife and/or children (under 12 years of age) of same surname or on proof of their relationship within the same passport and MOP50 per person for a group of 10 or more.
The seaport was quiet; the stores and shops were still closed including the tourism office. We were able to get a city map from a janitor who was cleaning inside. We check with the hotel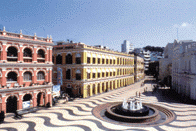 counter for our hotel service. Probably, they were expecting us at 9am so they are not arround. We checked the map where our hotel was so we could decide which bus to take. The hotel is just a few blocks off Avenida de Amizade so we decided to walk.
After getting a room at Hotel Nam Yue, which is at International Center Avenida do Dr. Rodrigo Rodriguez, everbody got asleep. I woke up at 12noon and went to the nearby New Yaohan Department Store to buy food and other stuff. Credit cards are accepted at a minimum of MOP50 charge. Pataca is Macau's currency and is equivalent to about PHP6.20. Difference between MOP and HKD is insignificant so it is advised not to change your HKD to the local currency. Shops accepts HKD and MOP inter-changeably. Generally, commodities in Macau are cheaper than in Hongkong.
After having a shower and lunch, we rode a bus around town. Structures are typically a blend of Chinese and Portuguese culture. The narrow streets are identical to that of Binondo. Taxis and buses abound the city and shops are all over the place. The bus stopped at Praca das Portas do Cerco which is near the Border Gates to Zhuhai, China. After a few minutes, we took again a bus to the famous Leal Senado Square.
From Leal Senado, we walked through Largo do Senado and passed by Sao Domingos Church (Rua de Sao Domingo), took Rua da Palha then left to Rua da Sao Paulo dropping at some of the shops up to the Ruins of St. Paul. At 7pm, we went back to Rua do Senado and took a taxi to the Macau Tower. It took us 15 minutes and MOP16 to get there.
The entrance lobby to the Macau Tower is spacious and excellently clean; direction to the tower would lead you downstairs through an escalator where you would find some shops and the ticket office towards the end. There are three high-speed escalators with glass panel where you would see your way up to the observation decks.
The Tower is at 399 meters above ground, the 8th tallest structure in Asia and the 20th in the world. At the observation deck is a glass flooring where you could see the land beneath where the tower stands. There is also a pay telescope of MOP5 per three minutes. Promenent structures from the tower are the Macau-Taipa bridge and the Casino Lisboa.
After a sip of drinks at the upper observation deck where you could experience the air, we went back to our hotel at 8:30pm by taxi and passed by the Statue of Kum Iam along Avenida da Amizade.
In the morning, we were supposed to visit Taipa and Cologne, however everybody woke up late so we decided to leave and take an earlier depature to Hongkong.
Actually, we didn't see much of Macau because everyone's restless.