The Cool Nuremberg, Germany

My Mom drove me to the Van Nuys Flyaway Terminal at Woodley Avenue where I was to take a bus to Los Angeles International Airport at Tom Bradley Terminal. I took Lufthansa Airlines flight LH451 to Frankfurt leaving at 7pm. I walked around the airport before I proceeded to the gate; it was quite a long walk. I arrived at the gate and wondered why I didn't see an immigration counter so I asked an airport staff who was driving elderly passengers to the gate. I found out US airports only have arrival immigration, departure card is surrendered at check-in or during boarding.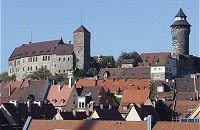 The flight was boring; the Lebanese guy to my left did not want talk to me. I just didn't know why. I arrived Frankfurt International Airport 2:30pm. I followed the signs leading to the Transfer Central where I had to check-in for LH054 to Nuremberg. But before that, I cleared immigration. The video instruction inside the aircraft before landing would help you find your way.
At the Transfer Central, I got my boarding pass to my connecting flight leaving at 5:30pm; meaning I waited three hours at the airport. Direction from the Transfer Central was even more confusing yet I found myself at the right gate. I took a sky train, an escalator and a very long way to the gate. And because I had to wait three hours, I spent it writing post cards for my family and friends.
The flight from Frankfurt to Nuremberg is just 40 minutes or three hours by car. My cousin Venus and her family met me at the airport. They were in jackets and I felt it was cold outside. I forgot to check with her of what to bring so I just packed light--two walking shorts, two jeans, four shirts, my personal kit, a pair of shoes and my camera and bag. I never knew it was cold! We drove to their house in Schwaig.
The following day, she sent me to my Aunt in Ingolstadter Strasse until afternoon. My cousin Dwight and his girlfriend arrived and they took me to their apartment in Furth. We spent that night talking and exchanging stories. At 2am, they took me back to Ingolstadter Strasse.
My cousin Salve went to the house to fetch me. After lunch, we drove around Nuremberg and visited the former Nazi Party Rally Grounds and the Congress Hall. We went up to the flatform where the Nazi leader stood during his time. We went downtown and got a picture of Nuremberg at day time. Dwight came back at night and we went to St. Lawrence's Church, Nuremberg's medieval city walls and fortification, Kaiserburg and some shops. The city walls are similar to the Intramuros of Manila except there are four castles strategically located at each corner with a combination of modern and medieval structures. Some of the old structures are converted into shops and hotels.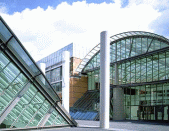 The next day we went to Germanisches Nationalmuseum. The museum is considered to be one of the largest museums in the world covering 25,000 square meters of exhibition area. It has a fine collection of more than a million pieces of arts, paintings, tools and weapons, jars, chairs and tables, doors, tomb stones, musical instruments, etc. These however, are presented in Deutch.
We also visited a theme park in the nearby city. It offers fun rides and shows. After a week, I flew back to California, USA.